Stocker and Yale Military Navigator's Watch
Model 660
Review and images by Bob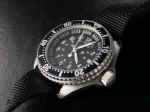 This is one of the most interesting wristwatches to make it onto the Government Qualified Products List (QPL). It is one of the very few military issue wristwatches in recent times that came from the manufacturer supplied with a stainless steel bracelet. Indeed, it's rather rare that a stainless steel milwatch was produced at all during the cost cutting, military "downsizing" era of the mid-90's. While most watches manufactured by Stocker and Yale and Marathon for the United States Government during this time were ubiquitous Cheap Black Plastics (CBPs), this watch stands out as an anomaly.
With supplied bracelet, the Stocker and Yale would make an excellent command officer's watch. It would also work as an aviator's watch. However, in my opinion, the watch would probably be better served with the heavy nylon 22mm strap. With the strap, it would make a great diver's watch or field watch. Of all the recent milwatches I have, it probably stands out as the most rugged of the lot. Alas, my hunch is that very few actually made it into the hands of the grunts. It was just too nice of a watch; too expensive, and well, there were all those command officers.....
Nonetheless, it is a milwatch, and one that was verifiably on the QPL. It survives today as what could have been, or perhaps what should have been, during the post Gulf War era of military downsizing and CBPs. Existing specimens of this watch are exceedingly rare today. They never saw wide-spread issue, and with the demise of Stocker and Yale's Watch Division in 2000, there certainly won't be any more produced.
Model SANDY 660 manufactured by Stocker and Yale 1995-1998
MIL-W46374F/ NSN no. 6645-01-364-4042
Ronda Quartz movement, hacking, date, screw-down crown. Self-luminous tritium
tubes. Stainless steel case, 3/16th inch thick mineral crystal. Stainless steel bracelet.
43mm X 10mm X 22mm lug width.
Note: Some of the early production watches suffered from sporadic starts and stops. This problem can be traced to two possible causes. The first is an ill fitting battery. This can be remedied by installing the correct battery for the watch, and sometimes by shimming. The second cause are the hands rubbing either against each other or against the crystal. The tolerances are exceptionally tight, and sometimes the hands do not adequately clear. This situation can be remedied by resetting the hands.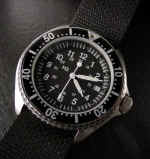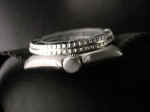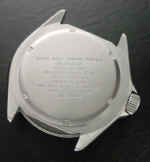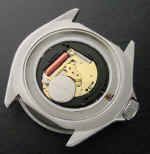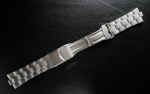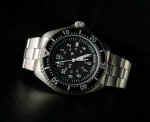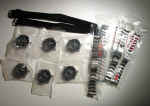 Copyright © 2001 The Military Watch Resource. All rights reserved. No text or images may be used without the express written consent of The Military Watch Resource